1.name/age/location: Laura/15/Germany
2. something about yourself: [Everytime it comes time for one of these questions I start to doubt the content of my life. I'm so lame.] I love Europe. I have a strange fashion sense. I hate glitter. I love to write and read and act and I'm a sucker for good art. My parents are homophobes and I can't stand it. I spend a lot of my time at the local theater or with my friends. I like the smell of sunscreen.
3. 5+ bands: [To give you an idea.] Tegan and Sara, Eisley, Benjamin Gibbard [Death Cab for Cutie/Postal Service], Stars♥, Belle and Sebastian.
4. 5+ books: House of Leaves [Mark Z. Danielewski], Dress you Family in Corduroy and Denim [David Sedaris], Notebooks on a Naked Youth [Billy Childish], anything Shakespeare, Little New York Bastard [M. Dylan Raskin]
5. 5+ movies: I don't really watch many movies. I lovelovelove Star Wars though. =)
6. how did you find us?: I'm not exactly sure. I was looking for an Of Montreal community and somehow ended up here.
7. put us in your userinfo and promote in one other place and show the link:http://www.livejournal.com/users/___daydreaming/
8. 4+ clear photos of your face: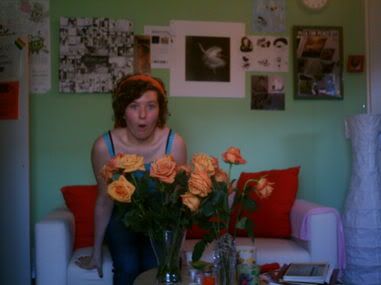 I love roses. No, really. I LOVE roses.



Eating a popsicle.



Just woke up.

9. 150x200 pic for the members page:
Heh. I'm really sorry. I'm a retard when it comes to computers and don't know how to resize.
http://i2.photobucket.com/albums/y8/lauralovesyou/ImsorryittookmesoLong.jpg